Rear Window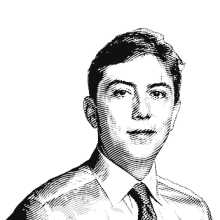 ANZ is paying for Shayne Elliott's failure
Joe Aston
Columnist
The playbook at ANZ Banking Group only gets more surreal.
It always helps that chief executive Shayne Elliott looks like a character Quentin Blake would've drawn for Roald Dahl, but it verges on the realm of fantasy that an ASX10 company would disclose $4.5 billion takeover talks one week, then start the next week by launching the $5 billion takeover of an entirely different target.
Maybe Elliott played us all beautifully. None of us can call his Suncorp Bank acquisition crazy after shaking our heads for five days at the lunacy of MYOB.
Quite unexpectedly, ANZ bluenotes came out strongly in favour of the deal on Monday. In a major coup, the corporate blog's acclaimed editor Andrew Cornell scored the first sit-down interview with Elliott. How does he do that every time?
Elliott strove to characterise the $5 billion acquisition of a $60 billion loan book as evidence that he's beaten ANZ into great shape. You almost have to admire the valour of this narrative enterprise.
It is irresistible, of course, to see it that Elliott is now spending $5 billion buying back home loan market share ANZ lost over the several years he's run it very poorly. Our colleague Karen Maley properly observed that the addition of the Suncorp book would "leave ANZ with pretty much the same market position that it enjoyed four years ago".
When Elliott succeeded Mike Smith in 2016, ANZ's Australian mortgage book was $246 billion and its market share was 15.5 per cent. Today, after 6½ years of extraordinary system growth, it's just $261 billion and a share of 13 per cent. Bolting on Suncorp's loans would vault ANZ back to 15.5 per cent.
Elliott says this is a cynical view of the deal. What other kind of view can be taken of anything the man says?
He is now issuing $3.5 billion of new ANZ shares at $18.90 per share to fund the Suncorp deal. Just four months ago, he bought back $1.5 billion of ANZ shares on-market at $27.70. Does anyone around the ANZ board table have a discernible pulse?
It's the daftest capital management since Phil Chronican and Ross McEwan – dubbed NAB's best CEO in 20 years, which isn't saying much – raised $4.25 billion of new equity at $14.15 per share in June 2020. Today, they are $3.5 billion through a buyback at $28.63 per share.
One notable synergy in the integration of ANZ and Suncorp Bank, should it be granted regulatory approvals, will be their respective inability to manage the roll-out of major technology upgrades. In 2020, Suncorp halted the $300 million upgrade of its core banking system. The new Oracle platform writes mortgages but was never extended to deposits and transactions.
Oddly enough, this is almost the reverse of ANZ Plus, which supports deposit and (extremely limited) transaction functionality (in a blissful exclusion zone from your existing ANZ accounts) but certainly won't support mortgages in the foreseeable future.
Slot these two basket cases together and you might almost have the semblance of a bank that offers the bare minimum.
It's a crude solution, which we suspect will be insufficiently revolutionary for Maile Carnegie and her ANZx army of dude bros. We'll just trust them to find a longer, harder and more expensive way.
Introducing your
Newsfeed
Follow the topics, people and companies that matter to you.
Find out more
Read More
Latest In Financial services
Most Viewed In Rear window