'We feel dwarfed by CBA': ANZ's $25b bet on Queensland
ANZ chief executive Shayne Elliott laid out big commitments to Queensland and argued technology has changed the competitive landscape in financial services, as he sought to bat away a wave of opposition to its proposed purchase of Suncorp Bank for $4.9 billion.
In the most significant bank buyout since deals during the financial crisis, ANZ pledged to keep Suncorp branches open in Queensland, maintain staff numbers for at least three years and commit $25 billion of lending to the state's energy transition and fund infrastructure projects for the 2032 Brisbane Olympics.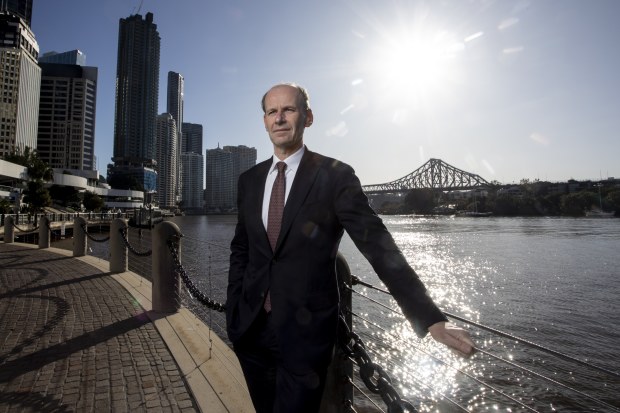 The sweeteners failed to impress the Finance Sector Union, which warned that thousands of jobs could be lost when the three-year period expires, while other regional banks lamented the deal could entrench banking power in Sydney and Melbourne.
But ANZ said it was necessary to provide more firepower to get bigger in Queensland, and Mr Elliott said scale would help ANZ compete more aggressively with the Commonwealth Bank.
The Australian Competition and Consumer Commission (ACCC) pledged to scrutinise the transaction closely to determine if it would reduce competition, and acknowledged the important role regional banks play in challenging the bigger institutions.
Mr Elliott said ANZ would make a case to regulators that the deal would improve competition and not just in Queensland, in a dramatically changed landscape where banks faced more pressures from non-banks.
"We think we've got a very strong case," Mr Elliott told The Australian Financial Review.
Landscape is changing
"This is a big step forward, but I don't think moving from 13 per cent to 15 per cent market share somehow gives us some dominant position or some pricing power that we didn't have before.
"It's a modest uplift, and we get to be a better competitor, with the really big players in the market who are people like CBA. Just as Suncorp probably feels dwarfed by ANZ, we feel dwarfed by CBA."
ANZ chairman Paul O'Sullivan said the arrival of new financial services players such as Afterpay and Zip had already changed the banking landscape, with more consumer finance products now sold through non-banking entities.
"Overall, it will result in much stronger competition and growth for Queensland consumers," he said.
Suncorp, meanwhile, said selling its bank would allow the group to focus more on its insurance arm, which had been hit heavily by a spate of flooding this year.
Suncorp chief executive Steve Johnston rejected the notion that it was contradictory to argue banking competition would be improved by taking out one player.
"[Mr Elliott] articulated the growth strategy for ANZ. I think that puts them in a very strong position to be competitive across the market," Mr Johnston told the Financial Review.
The deal received mixed views from Suncorp shareholders and analysts, with some querying if ANZ was paying too low a price. Some ANZ investors also questioned the timing of the deal, given volatile capital markets and pressures on the economy.
Banking analysts pondered the risks of a long process and questioned high integration costs, with the timing of the consolidation ultimately depending on when ANZ can finish the build of a new technology platform known as ANZ Plus. Suncorp's 1.2 million banking customers could eventually be rolled on to this platform if the deal is approved.
Recognising the focus that would be required to get the deal through, ANZ said it would not pursue the acquisition of accounting software company MYOB, which it only confirmed last week.
Moving up the ladder
After National Australia Bank bought Citi's consumer banking operations and Bank of Queensland acquired ME Bank last year, ANZ said the deal would make it a more viable competitor by lifting its market share in Queensland to 15 per cent.
In mortgages and retail deposits, the combined ANZ-Suncorp would leapfrog NAB to become the third-largest bank nationally, while remaining the fourth-largest business lender.
Anticipating regulatory and political scrutiny from Federal Treasurer Jim Chalmers and Queensland Treasurer Cameron Dick, ANZ and Suncorp got on the front foot on Monday.
The moves included ANZ pledging to maintain headcount for at least three years, using the Suncorp brand for five years, and Suncorp assuring that its headquarters would not relocate.
State legislation binds parts of the bank and its head company to Queensland. Both companies said they would meet with government to discuss any legal changes.
Mr Dick described Suncorp bank as "a product of Queensland" and said the state government would "be driving a hard bargain to ensure the new entity's Queensland presence is preserved".
"Queenslanders deserve nothing less," he said.
Mr Elliott said he looked forward to building a deeper presence in Queensland and working constructively with Mr Dick and the state government. "He's doing his job and he'll drive a hard bargain, but I don't think we'll be at loggerheads," he said.
"If anything, we'll be looking to them to help us grow in Queensland."
Mr Chalmers acknowledged Suncorp was an important financial player in the Queensland economy, but emphasised that due process, based on expert advice, would be the key influence on his call.
Tension surrounding the deal was evident with Suncorp sending staff a letter on Monday saying an "all employee town hall" would be held on Tuesday to discuss changes, while conceding "we may not yet have all the answers". The fate of Suncorp staff outside Queensland remains unclear.
Under the watchdog's eye
As ANZ's Mr O'Sullivan and Mr Elliott caught the escalator up to Suncorp's new headquarters to announce the buyout on Monday, staff eyed and nodded toward the outsiders' arrival. The ANZ chief executive and chairman did not get through security quickly, as they were signed in through the IT system.
The ACCC said it would commence a review when it receives a merger authorisation application, which is expected in three or four weeks. The ACCC came under criticism after the global financial crisis for waving through CBA's acquisition of Bankwest and Westpac's acquisition of St George.
"The ACCC recognises the important role that regional banks can play in competing with and challenging the major banks," a regulatory spokeswoman said.
"We will consider Suncorp's role as an effective competitor and challenger to the major banks in Queensland and in other states and the extent to which Suncorp competes on price or through other factors, such as by offering innovative products and services, despite being smaller than the major banks."
Suncorp's 1.2 million bank customers will increase ANZ's customer base by 20 per cent, its home loans by 17 per cent, retail deposits by 22 per cent and SME loans by 20 per cent. These numbers "are the equivalent of many, many years of organic system growth," Mr Elliott told analysts.
ANZ chairman Paul O'Sullivan indicated it would push for the ACCC to consider a wider definition of banking given the technological forces reshaping the market, which would increase the chances of the deal being approved.
"The definition of what banks are is changing very quickly," he said, and "that will be a factor in any evaluation."
Mr Elliott said ANZ was confident it could "make a very strong case this is in the interest of consumers and this is in the interest of competition". By making ANZ stronger in Queensland, this would "actually increase competition and drive better outcomes for consumers," he said.
ANZ is underweight in the Queensland market: 14 per cent of its loans are made there, compared to about 20 per cent of the Australian population living there. It is keen to lift market share in home loans and SME lending and capitalise on Suncorp's stronger momentum in the mortgage market, thanks to strong customer popularity and referrals from brokers.
Finer details of the deal
ANZ will initially run Suncorp bank as a separate business, and decide later on whether the brand becomes part of ANZ or even part of a new brand that ANZ is considering creating as part of its ANZ Plus project.
The Finance Sector Union said the three-year commitment to maintain jobs and branches was not enough. It branded the deal "bad for jobs and bad for competition" and said it would call on Mr Chalmers and the ACCC to reject it.
FSU secretary Julia Angrisano said Mr Elliott might be trumpeting no net job losses for three years but "what he really means is that there is no future for thousands of our members across Queensland once that three years is up".
"Now is not the time to close branches and reduce competition in the banking sector," she said. "This deal is all about profits for the ANZ Bank. This is a corporate marriage made in hell for Suncorp bank staff … This takeover will cost jobs and kill off the Suncorp bank presence as a brand across Queensland."
Hurdles also came from small banks opposing the deal. Heritage Bank chief executive Peter Lock said ANZ's takeover was "illustrative of the demise of the regional banks" and would "simply increase the power of the major banks in Australia".
"That's not great news for banking consumers," Mr Lock said.
"It's even worse that we're losing a Queensland-based bank, and the different perspective that brings.
"Having all the major banks based in Sydney and Melbourne means that there is a metropolitan perspective that dominates, when it's not really representative of the rest of the country.
"If anyone thinks the takeover of Suncorp will be good news for Queensland, they need to think again. The pressure will be on to strip costs and generate more profits, to create a return for shareholders."
But Mr Elliott said ANZ was making assurances beyond branches and could look to increase the 500 staff it has in Queensland. He pledged additional lending for the state's renewable projects, including "billions of dollars of new lending for energy transition projects over the coming decade".
Questions of value
Mr Johnston disputed notions that much of Suncorp's insurance operations were effectively based in Sydney, saying that was not a "fair statement … in terms of the totality of what we do". Suncorp would still retain "significant" employee numbers in Queensland and most of the claims handling would remain in the state, he said.
Other shareholders questioned whether Suncorp bank was worth more than $4.9 billion, and if an auction would attract better bids from rivals.
"You'd get a better price on Gumtree," said Charlie Green of Hunter Green Institutional Broking, a Suncorp shareholder.
But Suncorp chairman Christine McLoughlin said: "The agreed offer price fairly values the bank."
David Berthon-Jones, of Aequitas Investment Partners, which has a shareholding in Suncorp, said a good deal leaves "everyone feeling a little unsatisfied". He argued that Suncorp's bank was subscale and "unable to meaningfully grow share" so the deal should not cause "anyone to feel that a lessening in competition henceforth is likely".
Mr Elliott said: "What we love about this transaction is every part of Suncorp bank has a natural home at ANZ. We want all of it. There is no clean up. This is a good bank with a great franchise and a great set of products. It all has a very natural home at ANZ."
-with John Kehoe
James Eyers writes on banking, fintech and technology. Based in our Sydney newsroom, James is a former Legal Affairs and Capital editor for the Financial Review
Connect with James on Twitter.
Email James at jeyers@afr.com.au
Introducing your
Newsfeed
Follow the topics, people and companies that matter to you.
Find out more
Read More
Latest In Financial services