Chanticleer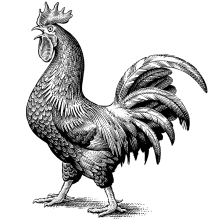 ANZ's 'once-in-a-lifetime' deal comes with complexity
Shayne Elliott says seven years of simplification has set ANZ up for the $4.9 billion acquisition of Suncorp's bank. But with deal making and growth comes complexity around execution. 
ANZ chief executive Shayne Elliott says the $4.9 billion acquisition of Suncorp's bank is the culmination of a seven-year journey from complexity to simplicity, and now towards growth.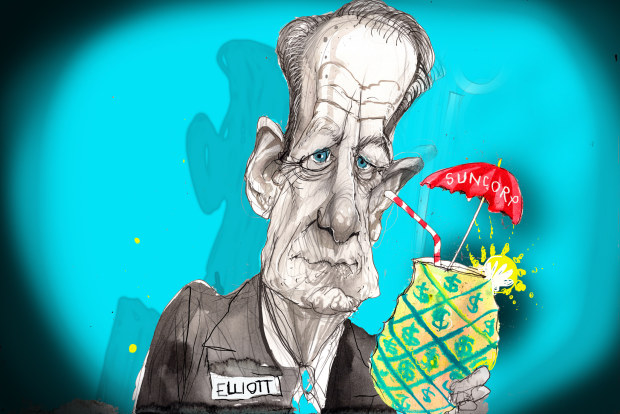 He argues the hard slog of selling 29 businesses, slashing headcount, releasing more than $13 billion in capital from ANZ's marquee institutional business and shifting to an agile organisational structure years before the pandemic popularised the concept was all about getting ANZ back into the sort of shape where a deal like this was possible.
"In many ways, depending on how you look at it, this deal has been a decade in the making," Elliott tells Chanticleer.
"We've been doing a lot of hard work over a long time to prepare ANZ to be ready to build this platform for growth, both for organic growth and to take advantage of opportunities like this.
"And from our perspective, this literally is a once-in-a-lifetime opportunity."
But after years of simplification, Elliott's big growth play will reintroduce some serious complexity to the bank.
Separating Suncorp's bank from its insurance business, and then integrating a legacy business and a well-established culture will be a challenge in itself. But further complicating the job is the fact Suncorp's bank runs on a technology stack that is the best part of 30 years old. Pre-tax integration costs are estimated at $680 million, with integration to take at least five years.
'Complete alignment of culture'
Elliott believes ANZ is up to the challenge. Suncorp is a major customer of ANZ's institutional banking services, so ANZ knows what it is getting into.
Suncorp and ANZ both use the Hogan core banking platform, and Elliott's plan is to shift customers across both banks to the much-hyped ANZ Plus platform that has been developed by ANZ's retail banking boss, Maile Carnegie.
But it's the cultural fit that has Elliott most excited.
"This may sound glib, but acquisitions and mergers live and die on culture. All the other stuff is interesting and very important, but at the end of the day, what makes or breaks transactions … is culture. We're very mindful of that and what we really admire here about Suncorp is the complete alignment of culture."
The Suncorp deal, which ANZ will fund via a $3.5 billion entitlement offer, will lift ANZ's share of the all-important mortgage market from 13.1 per cent to 15.4 per cent.
But arguably this is simply ANZ recovering lost ground.
Its market share sat at 15 per cent before COVID-19, but loan growth stalled after ANZ badly misread the pandemic housing boom, with its failure to properly resource the mortgage business leading to a disastrous blowout in loan processing times.
Deal delivers 'many years of growth'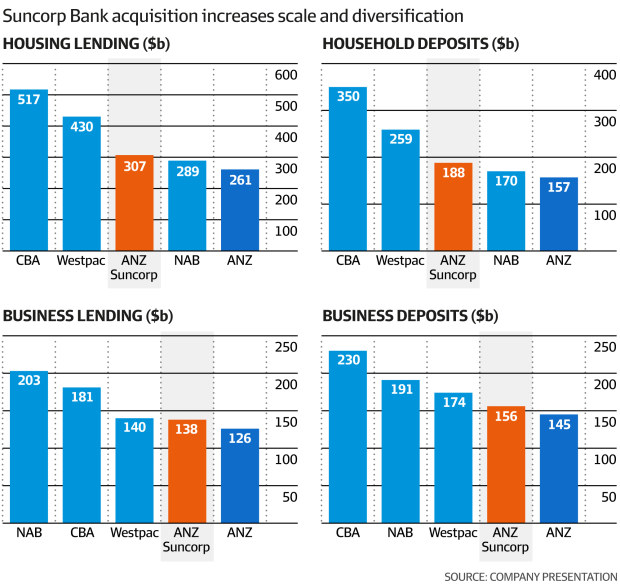 Elliott argues that is a cynical view of the Suncorp deal. Yes, ANZ does get a $60 billion loan book, which will drive a 10 per cent increase in ANZ's retail and commercial earnings that Elliott says is "equivalent to many, many years of [banking] system growth".
But he sees this deal as buying a franchise of "rusted-on, deeply loyal customers", about 40 per cent of whom count Suncorp as their main financial institution. Importantly, 700,000 of Suncorp's 1.2 million customers live in Queensland, where ANZ has long been light.
A bigger presence in the Sunshine State – home to the fastest growing domestic economy over the past 20 years – will help drive long-term growth, and not just in ANZ's retail and commercial; Elliott says the investment required in the lead-up to the 2032 Olympic Games in Brisbane, and in sustainable infrastructure more broadly, will create opportunities for ANZ's institutional business.
Investors have two key issues to chew over in the coming days. The first, of course, is price.
While ANZ has had a clear run at its target – with Bendigo & Adelaide Bank particularly annoyed that its approaches to Suncorp were rebuffed – it has arguably paid up to secure its prize; the Suncorp deal has been struck on 1.3 times book value, where Bendigo trades at 1 times and Bank of Queensland trades at 0.7 times.
Countering this is the $260 million in annual cost synergies ANZ believes it can extract from the deal, which is equivalent to 35 per cent of the annual cost base in Suncorp's bank.
ANZ chief financial officer Farhan Faruqui says the synergy target is extremely conservative, particularly in areas such as capital and funding efficiencies, procurement savings and synergies from improved customer experience on ANZ Plus down the track.
Regulatory hurdles to come
But the payback here is relatively modest, with earnings per share to rise by low single digits after between four and six years of what will be complex integration. Elliott says that's partly a function of how big ANZ is, and how hard it is to meaningfully move earnings.
The second issue for investors to consider is regulatory approvals. To win over the Queensland government, ANZ has promised to leave Suncorp's Queensland's branch and staff in place for at least three years. But legislation requires certain functions inside Suncorp to remain in Queensland, so ANZ will need to convince the state that the deal will increase competition and access to capital.
"I am really confident we'll get a fair hearing," Elliott says.
Assuaging the concerns of the Australian Competition and Consumer Commission will be harder, but it is clear both Suncorp and ANZ believe they can win this battle too, likely by arguing that the combination of the two businesses will result in only a modest increase in ANZ's market share, well below the "substantial lessening of competition" bar the ACCC needs to reach to block a deal.
Still, the political and regulatory opposition to any one of Australia's big banks getting bigger will be fierce and ANZ can expect no shortage of heat in the coming days and weeks.
Elliott will likely be placed in the slightly comical position of telling investors the Suncorp deal is historically important, while telling competition regulators it's actually pretty modest in the scheme of things. Don't you just love deal making!
But should ANZ strike trouble with its competition, don't count Bendigo Bank out of contention for Suncorp's banking division. That camp, which is being advised by Bank of America, remains very keen to press its case and believes the fact ANZ's deal will take the best part of 12 months to close could leave the door ajar.
ANZ shares will not trade again until Thursday while the entitlement offer is being completed, meaning we'll have a few days to wait for the market's verdict.
But even with the banking sector facing uncertainty due to rising rates and a slowing economy, the combination of discounted big bank shares and Elliott's growth narrative is likely to prove attractive.
Indeed, Elliott was able to buttress his message about growth from the Suncorp deal on Monday with a trading update for the June quarter that showed unexpectedly strong revenue growth of 6 per cent, improving margins (thanks to higher interest rates) and a rebound in the group's home loan business on better turnaround times.
"All those things are behind us," Elliott boldly declared on Monday, adding that he hoped he could learn more about improving processing times from Suncorp Bank boss Clive van Horen, who has dramatically slashed loan approval times over the past two years.
Van Horen, who will remain in charge of the business and oversee its integration into ANZ, earned plenty of praise from Elliott. Could he even become a sneaky outsider in the eventual succession race to replace Elliott?
Finally, Elliott also announced on Monday that ANZ's pursuit of MYOB is over. ANZ was clearly serious about kicking the accounting software group's tyres, but the Suncorp deal will be an infinitely easier sell to investors.
More on the ANZ-Suncorp deal
Introducing your
Newsfeed
Follow the topics, people and companies that matter to you.
Find out more
Read More
Latest In Financial services
Most Viewed In Chanticleer