Do you actually need $1m to retire?

New analysis challenges the widely touted view that couples need $1 million in super to enjoy a comfortable retirement lifestyle, with Choice spinoff Super Consumers Australia saying retirees with low-spending patterns can potentially bow out of the workforce with $88,000 in super, without their living conditions deteriorating.
The new research analysed pre-retiree and current retiree spending patterns to determine what it takes to live a "low" spending, "medium" spending and "high" spending lifestyle in retirement.
A single pre-retiree aged 55-59 who plans to spend around $55,000 a year in retirement is considered to have a "high" level of spending, and as such needs to save $745,000 by the time they're 65, the analysis found, based on this retiree owning their home, or not paying rent or a mortgage.
But if they're planning a lifestyle with a medium annual spend of $44,000, they'll need $301,000 and if they're planning a "low" spending of $34,000 a year, they'll need $88,000.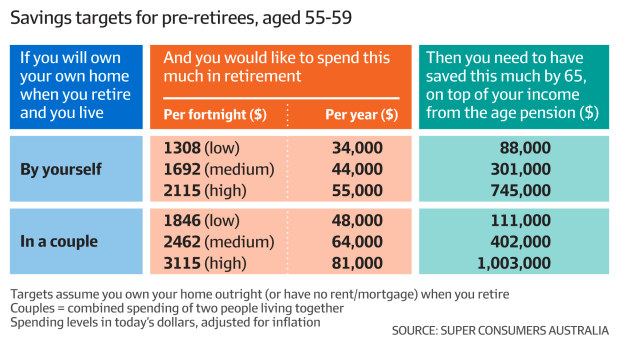 All cohorts are assumed to also receive the age pension, which is expected to make up 91 per cent of income for retirees within the low-spending cohort.
Meanwhile, single retirees aged 65-69 with medium- to high-level spending patterns require between $258,000 and $743,000 by the age of 65.
Couples aiming for similar lifestyles will require between $352,000 and $1.02 million in savings, the research found.
Single retirees planning a more modest annual spending need $73,000 by the time they're 65, while couples need $95,000.
Super Consumers Australia suggested its medium-spending target of $258,000 in savings by retirement would provide a single person a comfortable retirement.
However, that figure is at odds with ASFA's Retirement Standard, which suggests a single person will need $545,000 to achieve a comfortable retirement.
"Having credible targets, based on actual spending, means people can confidently spend and get on with enjoying their retirement," said Super Consumers Australia director Xavier O'Halloran.
The three savings targets, high, medium and low, are based on what people tend to spend in retirement, and include a "buffer" to provide confidence that their savings can weather market turmoil and are based on growth asset allocation assumptions of a 60/40 split and a mean one-year nominal net return of 5.60 per cent.
However, ASFA CEO Dr Martin Fahy said the Standard is "forward-looking, aspirational and resonates with retirees and their lived experience".
"At a time of rising inflation and year-on-year increases in health care and aged care costs, Australians are obviously worried about having enough to meet their retirement needs.
"The ASFA Retirement Standard recognises that at 12 per cent Superannuation Guarantee contribution rates, Australians aren't condemned to poverty in retirement."
Mr O'Halloran also took aim at the common belief that retirees need $1 million in superannuation.
Noting that couples with high spending patterns will generally need around $1 million to maintain their standards in retirement, he added that the message that all retirees will generally need $1 million to retire is "actually quite harmful".
"That can lead to over-saving, it can lead to them making sacrifices during their working life that they don't need to make, if they just want to maintain their standard of living.
"It also sees some people in that higher bracket pass away with a significant amount of savings still left over, that they haven't been able to make the most of during their lives, which I think is a shame."
The median male super account balance at 55-59 is $162,337, according to the Association of Superannuation Funds of Australia (ASFA), while the median female balance is $109,639.
The analysis comes as the Retirement Income Covenant regime enters effect, requiring funds have a "retirement income strategy" in place so that members can best use their funds in retirement.
"As part of the Retirement Income Covenant, we would expect funds to be using these targets to help members make sense of their retirement income needs," said Mr O'Halloran.
"Our goal is to improve consumer and industry understanding of people's retirement needs through industry-wide adoption of the targets and the underlying assumptions and research."
Lucy Dean writes about wealth management and personal finance, based in The Australian Financial Review's Sydney newsroom.
Connect with Lucy on Twitter.
Email Lucy at l.dean@afr.com
Introducing your
Newsfeed
Follow the topics, people and companies that matter to you.
Find out more
Read More
Latest In Superannuation & SMSFs