End of climate wars will fast-track wind, solar: Clean Energy chief

The Albanese government will allow Australia to accelerate investment in wind, solar and storage projects and end its "over-reliance" on coal and gas, Clean Energy Council chief executive Kane Thornton will tell an energy summit in Sydney on Tuesday.
Only a few days after wind generation accounted for a record 27 per cent of power generation in the National Electricity Market, Mr Thornton says it is time to turn the page on the climate wars of the past decade that had "buffeted" the clean energy industry.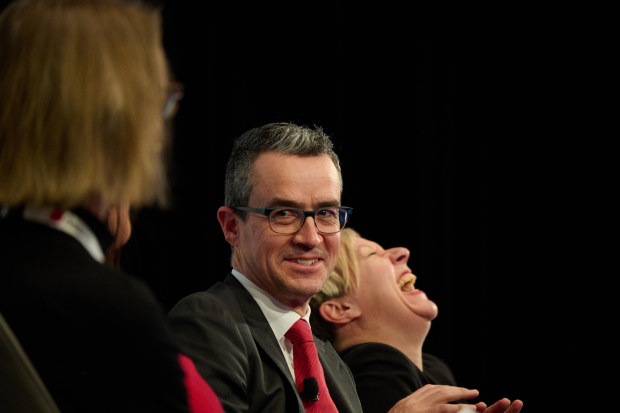 "The unnecessary politicisation of clean energy, the chopping and changing of policy, unnecessary and unpredictable government interventions in the energy market and messy public debate about real and fake issues has been exhausting," he will tell the Australian Clean Energy Summit, according to speech notes.
"Thankfully, we now have governments across the country united in their commitment to accelerating the transition to clean energy. It is no longer a question of 'why', but after a lost decade we can finally focus on 'how'. A federal government that is prepared to lead and collaborate is significant."
Mr Thornton says last month's energy crisis, in which the market operator suspended the wholesale electricity market, was not just about the war in Ukraine and high resource prices.
"Australia's over-reliance on now costly gas and failing coal generators is costing us big time," he will say.
"But the solution is apparent and accepted almost universally – we must accelerate our shift to renewable energy and energy storage to give us the energy security we need, to deliver lower-cost power for customers and respond to the challenge of climate change."
As the Albanese government prepares to legislate the 43 per cent emissions reduction target by 2030, Mr Thornton is calling for an accelerated reform of Australia's energy markets – which are already being overhauled by the Energy Security Board – especially on poles and wires.
"Nowhere has a lack of leadership and co-ordination between more evident than in transmission. The vast majority of our grid was built by governments," Mr Thornton will say.
"There is enormous private sector capital and capability prepared to build the grid of the 21st century, but it needs reform to the regulatory test and stimulation by government."
The Albanese government has proposed a $20 billion low-cost loan program as part of its Rewiring the Nation program to build more poles and wires to connect renewable projects across the country.
But the Clean Energy Council boss says there needs to be more streamlining of the grid connection process.
It comes as wind power cracked 7000 megawatts, or 27 per cent of Australia's power generation, for the first time on Saturday.
Energy market watcher Paul McArdle of specialist firm Global-ROAM said wind generation climbed as high as 7111 megawatts on Saturday night, with the winter months usually the windiest time of the year.
"The share of total grid demand supplied by wind was a fraction above 27 per cent and we can see it trended higher in the hours that followed as grid demand declined through the night," Mr McArdle wrote on the Watt Clarity website.
Wind power accounted for 25 per cent of the national fuel mix on Sunday, before dropping back to 6 per cent on Monday afternoon.
Coal still accounted for more than half of Australia's power generation, followed by gas (21 per cent).
Earlier this year, the Victorian government announced ambitious targets for offshore wind capacity of 2 gigawatts by 2032, 4GW by 2035, and 9GW by 2040.
Introducing your
Newsfeed
Follow the topics, people and companies that matter to you.
Find out more
Read More