Europe shows latest COVID-19 wave is not just a winter thing
London | It may be a long, hot summer but a major COVID-19 surge is sweeping through Britain and Europe, as omicron variants BA.4 and BA.5 reach a peak.
Officials in both London and Brussels late last week began expanding the rollout of a second booster shot.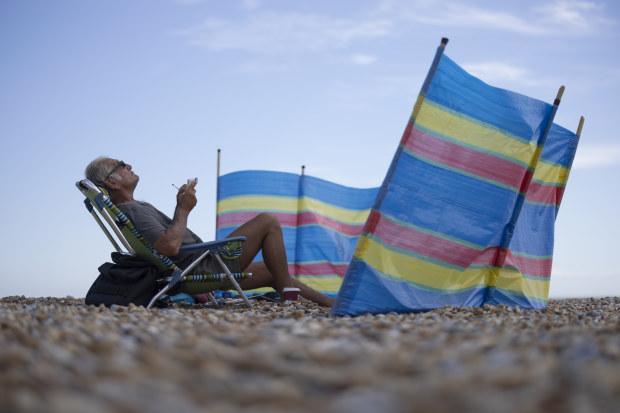 But the escalating infection and hospitalisation rates have not prompted widespread explicit concern among the public or politicians.
In Britain, the Office of National Statistics estimates that almost 3.5 million people had COVID-19 in the first week of July, a stunning 29 per cent increase from the previous week.
That is one person in every 20. Although that is still below the record of 4.9 million during the March BA.2 tsunami, it is the highest yet recorded for a summer month.
In Europe, there was a 15 per cent jump in cases this past week. More than 1.7 million people in France and almost 1.2 million people in Germany have the virus, which the European Centre for Disease Prevention and Control said was causing increased hospitalisations.
There were 4693 people in an English hospital being treated primarily for COVID on July 12, up from 2165 on June 21 – approaching the peak of previous waves. The number of inpatients with COVID-19, even if not as the primary issue, is well above 10,000.
Hospitals in England are beginning to enforce mask wearing again, and the Hospital Consultants and Specialists Association has warned that pressure on the health service in summer could start to rival that of pre-pandemic winters.
We can't predict how this virus changes. We can get broadsided by it quite easily.

— Leeds University professor Stephen Griffin
In England, the government's vaccination advisory body JCVI announced on Friday that a combined COVID-flu shot will be rolled out to over-50s plus frontline health and aged-care workers from September, in readiness for a potentially lethal winter.
Britain had previously offered a fourth jab only to over-65s and the vulnerable, but take-up has slowed: about 20 per cent of over-75s have not had the second booster.
"The COVID-19 boosters are highly effective at increasing immunity and, by offering a further dose to those at higher risk of severe illness this autumn, we hope to significantly reduce the risk of hospitalisations and deaths over the winter," said JCVI deputy chair Anthony Harnden.
The European Union's CDC this week recommended a second booster jab – a fourth shot – for anyone over 60.
"We are currently seeing increasing COVID-19 case notification rates and an increasing trend in hospital and ICU admissions and occupancy in several countries mainly driven by the BA 5 sublineage of omicron," said Andrea Ammon, the director of the European CDC.
Nobody is talking about lockdowns or travel restrictions, although French President Emmanuel Macron's government last week tried to re-establish the power to require overseas visitors to show proof of vaccination or a negative test. The far-right and far-left in parliament combined to defeat the measure.
BA.5 vs Britain
The omicron BA.4 and BA.5 subvariants have been rampaging through Britain since early June, with BA.5 responsible for about 70 per cent of infections and BA.4 for about 20 per cent.
Leeds University virologist Stephen Griffin told the BBC that BA.5 was avoiding immunity generated by antibodies, and the effects of the mass vaccination program were wearing off.
"Omicron is extremely good at avoiding our antibody immunity. There are signs the virus can start to avoid our T-cells as well," he said.
"We need to keep an eye on that. We can't predict how this virus changes, we can get broadsided by it quite easily."
Though the vaccines do not mitigate transmission or illness, they do still appear to be preventing many cases from becoming severe. But the number of hospitalisations has crept up.
University College London professor Christina Pagel told the Financial Times the country might be on the verge of a peak for this wave.
But "this does not change the fact that we've seen yet another damaging and disruptive wave of infection".
Fighting the next wave
Dr Pagel predicted another wave would hit Britain in the northern hemisphere autumn. "We are going to be here again in September or October, with the next variant," she told the BBC.
"How can we sustainably reduce transmission? That's the question we have to answer," she said, suggesting the answer lay in next-generation vaccines, better sick-leave conditions, and a concerted effort to improve indoor air quality.
According to the Financial Times, there are about 400 different COVID-19 vaccines at various stages of development, which may include some that target a wider family of coronaviruses, or which are administered nasally and can break the chain of transmission earlier.
The vaccination programs rolled out so far mean that an average person contracting COVID-19 is now about 30 times less likely to need hospital treatment, and 60 times less likely to die.
But the disease is still a major inconvenience, and has potentially serious consequences. The ONS also estimated that almost 2 million people in Britain were experiencing symptoms of "long COVID".
Although this is a self-reported number, public health experts agree that the phenomenon is real, significant and often debilitating – often forcing people out of the workforce.
Some 56 per cent of those experiencing long COVID-19 reported fatigue as a symptom, followed by shortness of breath (31 per cent), loss of smell (22 per cent) and muscle ache (21 per cent).
Meanwhile, there are fears that an unusual outbreak of acute hepatitis in children may have some kind of connection with the pandemic.
Hans van Leeuwen covers British and European politics, economics and business from London. He has worked as a reporter, editor and policy adviser in Sydney, Canberra, Hanoi and London.
Connect with Hans on Twitter.
Email Hans at hans.vanleeuwen@afr.com
Introducing your
Newsfeed
Follow the topics, people and companies that matter to you.
Find out more
Read More