How deja vu helped this fundie avoid the buy now, pay later crash
Hugh Dive is no stranger to a bubble bursting. In fact, that was one of his first and most formative experiences in financial markets.
Working as a junior analyst at Canadian firm Connor, Clark & Lunn at the height of the dotcom boom, Dive vividly remembers sitting on the sidelines as some of the most powerful tech companies rocketed in value.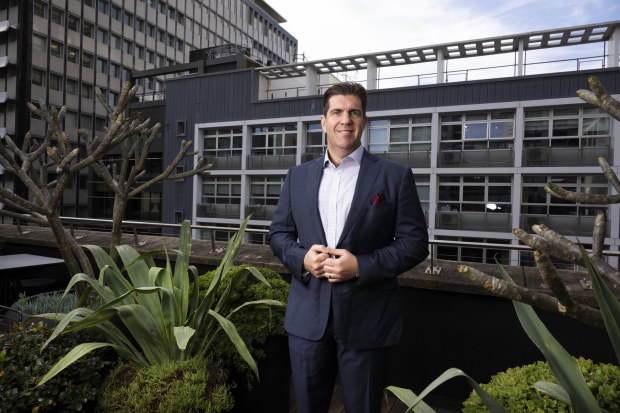 "We massively underperformed in that 1999-2000 era by focusing on boring industrial companies," he recalls.
"But when the market eventually crashed, it was those companies that were stable, had been around for a long time, and their business models had weathered a number of different cycles that ended up doing very well."
"So my natural bias is to be sceptical towards tech stocks and those concept companies."
It was that experience that the Atlas fund manager remembered as he watched speculative corners of the market, such as the buy now, pay later sector (BNPL), explode in value during the pandemic.
Again, Dive avoided the temptation to buy into the hype, instead choosing to stick with "old economy" stocks.
Avoid the 'frothy' companies
"It reminded me so much of 2000, it was exactly the same, and it was hurting," Dive says.
"But many high PE growth companies are valued on the basis that nothing will ever go wrong, no competitors will emerge, and there will be no changes to the regulatory environment – a situation that rarely occurs."
However, as he'd witnessed in previous cycles, the crash was just as intense as the rally.
The BNPL sector's demise hit a tipping point last week following confirmation that Commonwealth Bank-backed Klarna raised $US800 million in fresh capital at a valuation of just $US6.7 billion, just one year after it was valued at $US45.6 billion.
Local BNPL player Zip also announced it would terminate its merger with rival Sezzle, paying a $US11 million termination fee.
The sector's fall from grace has only served to reiterate Dive's mantra of avoiding companies that rely on "frothy" market conditions, and sticking to stocks that pay dividends from stable, recurring revenue.
"In mid-2020, if you were Jeff Bezos, you could've bought the entire ASX BNPL sector for $22 billion for an expected loss of $159 million in the following year," Dive says.
"For roughly the same amount, an investor could own the largest packing manufacturer in the world (Amcor), one of the most efficient electrical goods retailers on earth (JB Hi-Fi) and the power distribution systems in South Australia and Victoria (Spark Infrastructure) which enjoys a regulated return. Your expected following year profits would've been $1.8 billion."
"While these three old economy stocks didn't have the blue sky and sizzle of the BNPL sector, these are also companies that have been around through a range of market conditions, good and bad," he adds.
'Unsustainable' iron ore prices
The strategy helped Dive, who runs the $70 million Concentrated Australian Equity Portfolio at his boutique Atlas Fund Management, to outperform the S&P/ASX 200 by 7.7 per cent in the 12 months through June.
The fund returned just 1.1 per cent for the year but compares to the benchmark's total return of minus 6.5 per cent.
The outperformance was fuelled by a bumper three months between April and June this year, when Dive's decision to largely avoid the resources sector began to pay off as recession fears hit commodity prices.
Dive has steered clear of the ASX's mining giants for the past couple of years which he admits hurt performance in 2021 as iron ore prices soared to record highs.
And while clients questioned his decision to avoid the sector, Dive stuck to his guns.
"We viewed that iron ore price as being unsustainable," he says. "The time to be buying is when the price becomes painful, and it hits that marginal cost of production at about $US80 per tonne."
Avoiding the local resources sector isn't Dive's only contrarian call; he says the sell-off in the big four banks, sparked by the Reserve Bank's interest rate rises, has been overdone.
Backing the banks
Dive thinks the market is exaggerating the level of bad debts the banks will rack up and is underestimating the expansion in net interest margins from higher rates.
The fund currently has holdings in Commonwealth Bank, Westpac and ANZ, with a heavy weighting towards the home loan banks – Westpac and CBA.
"Banks are very fast to pass through rate increases which we've seen, but very slow to raise deposit rates, so we'll see a bit of a margin expansion opportunity there," he says.
"This is in an environment of pretty close to full unemployment. Rising rates will cause pain in the economy because it will cost people more to service their mortgage, but while they've still got jobs, they're still going to pay that mortgage."
"Additionally, the banks are relatively well capitalised, their loan books look a lot better now than they were during the GFC and early 1990s."
Dive firmly believes that smaller, certain returns today are worth more than potentially larger, uncertain future returns.
This is highlighted by the fact that every stock in Atlas' Australian equity portfolio paid a dividend over the past 12 months, with 22 out of 24 increasing their distributions.
He refers to Ampol and Amcor as "portfolio stalwarts". Both companies are among the fund's top active positions alongside Transurban, Atlas Arteria and Incitec Pivot.
The portfolio has also benefited from a number of its holdings receiving takeover bids over the past year including Spark Infrastructure and Atlas Arteria.
Dive believes that the characteristics he looks for in a stock aligns with what private equity firms are also seeking when they hunt for acquisitions.
"What I look for is stable earnings and low gearing which is quite attractive to PE because it allows them to gear it up and buy it," he says.
Dive adds that he wouldn't be surprised if Tabcorp's lotteries business is taken over while Incitec Pivot's fertilisers business is also an attractive potential takeover candidate.
Whisky enthusiast
Outside of work, Dive has become a keen participant of Geoff Wilson's WAM cycling group. He also looks back fondly on his years playing competitive rugby and American football.
"I like the explosive nature of American football and I like the book learning of it, the fact that it's very studious," he says. "You get a playbook of 70 or 80 pages, and you've got to learn it and then translate it to setting up plays on the field."
Following years of playing both rugby and American football, Dive admits that the strain on his joints make it difficult to run, so he's turned his attention to other hobbies.
Besides a passion for smoking meats, Dive is a whisky enthusiast, and regularly competes in the national tasting championships where competitors blindly sample eight types of whisky and must correctly name each.
While Dive hasn't been victorious yet, he says no one really loses at the event.
"There's a very vibrant after-party to help the contestants warm down with 10 or so whisky distilleries offering samples of their wares," he says.
"Similar to American football and smoking meats for 10-plus hours on a smoker, there is an aspect of book learning, attention to detail and training to compete."
Introducing your
Newsfeed
Follow the topics, people and companies that matter to you.
Find out more
Read More