Now's not the time to reduce COVID-19 isolation period: PM
Anthony Albanese has rejected calls to reduce from seven days to five the isolation period for people with COVID-19, and said reducing the prevalence of workers without sick leave required a long-term solution to be thrashed out at September's jobs summit.
After the government backed down last week and extended COVID-19 relief payments for casuals and people without sick leave for another three months, Mr Albanese said a more enduring solution would be to reduce the prevalence of casuals in the workforce.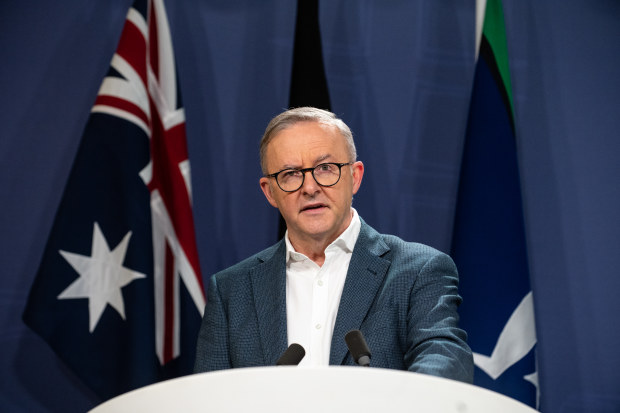 "Well over a period of time, we need to work towards more secure work, one of the things that we will do is to put into the Fair Work Act secure jobs as one of the objectives of the Act," Mr Albanese said.
"It's something that will be on the agenda at the Jobs and Skills Summit, is how we give people that security because it's not just a matter of the fact of people not having sick leave or annual leave."
"It's also the fact that how do you get a mortgage if you don't have secure work? How do you plan to have a child or another child, if you don't have a secure income? It's something that is a growing problem in our society."
Mr Albanese announced on Saturday the $750 payment, which expired on June 30, would be extended until September, after facing intense pressure from state premiers, health authorities and unions to restore the payment.
Labor went to the election in May promising to reduce the rates of casualisation after the initial COVID-19 pandemic exposed what Labor and the unions said were galling levels of insecure work in society.
In response to the immediate challenge, Mr Albanese said it was premature to reduce the seven-day isolation period for people who test positive for COVID-19.
NSW Premier Dominic Perrottet has called for a debate at national cabinet on whether the isolation period should be reduced after winter, or scrapped altogether.
"As we work through the next couple of months, we need to assess what isolation period suits the circumstances, particularly as we head into spring and summer," Mr Perrottet said.
Mr Perrottet said he had received health advice saying the virus would be around "for another couple of years".
The United States and United Kingdom implemented five-day isolation in December and January respectively.
Victorian Premier Daniel Andrews echoed the sentiment.
Citing advice from Chief Medical Officer Paul Kelly, Mr Albanese said the increase in COVID-19 cases meant now was not the time to reduce isolation requirements, but he said health authorities would continue to monitor the issue.
"But given the increased spread of the COVID virus in recent times that we'll see continuing, it's expected to peak over coming weeks, now's not the time to change those provisions which are there," Mr Albanese told FiveAA radio.
Daily COVID-19 cases have been trending higher since mid-June. About 292,000 Australians tested positive for COVID-19 over the past week, according to Covidlive.
Under current settings, a person who contracts COVID-19 is required to isolate for seven days from when they received their positive test result.
Almost 780,000 employed people reported working fewer hours than usual due to illness in June, which the Australian Bureau of Statistics said owed to an increase in COVID-19 and influenza cases.
Michael Read reports from the federal press gallery at Parliament House. He writes on financial services, politics and health. He was previously an economist at the Reserve Bank of Australia and at UBS.
Connect with Michael on Twitter.
Email Michael at michael.read@afr.com.au
Introducing your
Newsfeed
Follow the topics, people and companies that matter to you.
Find out more
Read More