This leader's retirement dream includes a room-sized train set
Deborah Cheetham – soprano, composer and arts leader – shares her love for model locomotive sets in our regular Other Passions column. The Culinary & Travel issue is out on June 24.
Deborah Cheetham is a soprano and composer. She is 57 and lives in Melbourne.
What set you on your model train journey?
Every birthday and Christmas when I was a young child in the early 1970s, my parents tried to entice me to like dolls. They were beautiful, but I wasn't interested at all in dolls. I have no idea when it sparked in their imaginations to buy my first train set, but I couldn't be parted from it.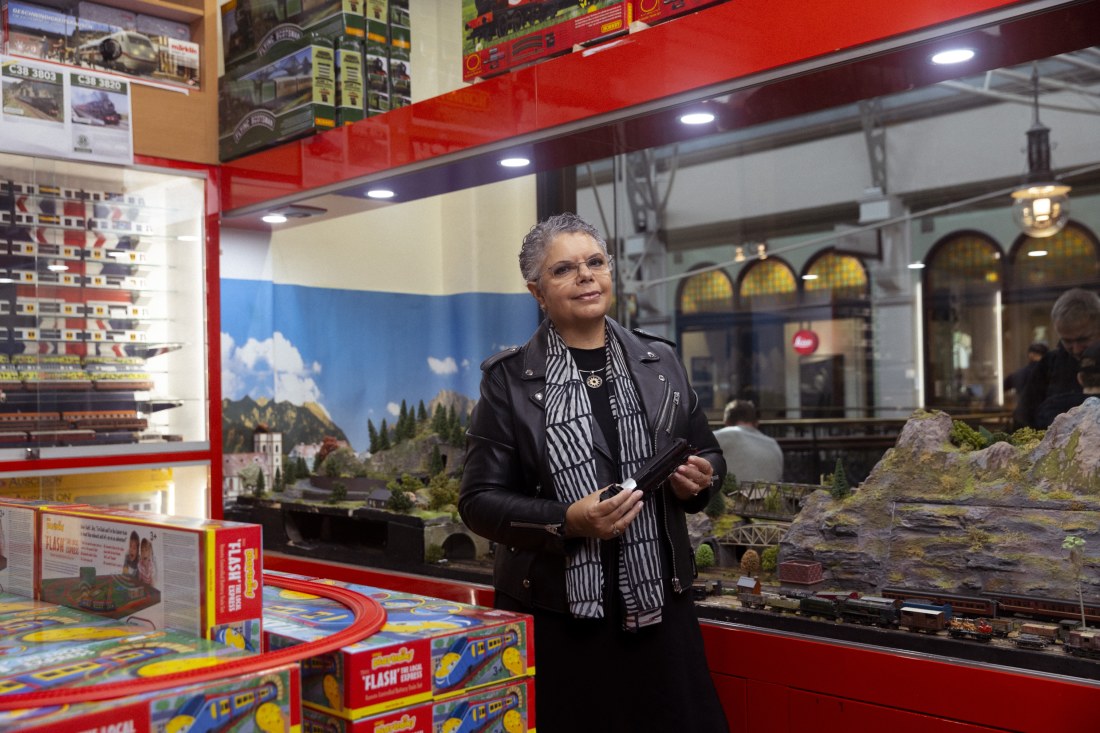 My first little train was a locomotive steam engine with a coal truck and four carriages, all Hornby 00-gauge models. What was unique about it was you could place a few carefully measured drops of sewing machine oil in the chimney stack and it would puff smoke.
And that little train grew into a whole train landscape, the size of the one we've photographed you with at HobbyCo in Sydney.
My dad would help me add to the set whenever I received a new item, but he was with the volunteer rural fire brigade and would often get called out. I'd get impatient waiting for him so had to learn how to set up these increasingly complicated track layouts and all the switching.
The set also grew through my older sisters' boyfriends who were very interested in modelling the landscapes.
What became of that set?
It was dismantled when my parents' house was sold and, sadly, I didn't get to save enough of it. But as it is, my collection occupies about two-thirds of the storage in our apartment.
Are there plans for a new one?
It's my retirement plan! On weekends, my partner, Toni, and I scour Domain for our sea-change house and the question is always: "Where will the train set go?" Who knows where we will live; I only know that there will be a shed or a barn or a room completely and utterly devoted to my Middle Earth extravaganza.
Middle Earth?
I'm a great J.R.R. Tolkien fan. My train set landscape will be based on his drawings of Middle Earth; it'll have Hobbiton and Mount Doom, of course. I've bought a stack of books that describe the topography, and I've done some conceptual drawings. It'll all be to scale, made of plaster of Paris and found materials. I'm going old school.
Where do you begin?
Good design on paper is first. You're dealing with a complicated electrical set-up if you want things concealed and embedded so that they're easy to access. There will be problems to solve, and it'll be a consolation to have online forums to ask questions such as what gravel to use under what track. You can build villages with scale-model people; you're only limited by the funds you have available and your imagination. And even then, the hobby stores provide inspiration.
Does this interest extend to real steam trains?
For sure. I'll always stop to watch a real steam train go by. Toni and I recently rode on the Q Train restaurant pulled by Steam Locomotive 3620 on the Bellarine Peninsula between Queenscliff and Drysdale. It was wonderful.
Meanwhile, you're not retired. On July 29, you'll open the Australian Chamber Music Festival in Townsville with the world premiere of your work Welcome to the Country – Nginda Ngarrini Bi Ngya.
After being postponed for two years, it'll be exciting to perform this commission with the Goldner String Quartet. There's a different energy that comes to something that's been cancelled and changed.
I and other artists have found that everybody is bringing an altered reality to the theatres and the concert halls as they reopen. Added to that, it's healing and powerful country up there. The festival has been going since 1991; it's a very special one.
The July issue of AFR Magazine – the Culinary & Travel issue – is out on Friday, June 24 inside The Australian Financial Review. Follow AFR Mag on Twitter and Instagram.
Introducing your
Newsfeed
Follow the topics, people and companies that matter to you.
Find out more
Read More

Philippa Coates
AFR Magazine deputy editor
Philippa Coates is deputy editor of The Australian Financial Review Magazine. She is based in our Sydney newsroom. Connect with Philippa on Twitter. Email Philippa at pcoates@afr.com.au